SpacePro™ 'Classic' Standard Size Sliding Wardrobe Door Design Tool – 15% off RRP plus FREE Track-sets
Read about the range…
Our SpacePro™ 'Classic' range of sliding wardrobe doors are now available in 1, 3 and 4 panel options and in our widest range of glass colours (for standard doors).
The 35mm wide frame is more substantial than most other standard doors, and is also made out of a thicker grade steel than most other door systems.
Previously reserved for more specialist retailers, and not available in the DIY stores, this is the original Stanley 3000 series product, now produced in a modern range of panel finishes in Sheffield.
Manufactured to order or from stock, with lead times throughout Mainland UK from 2 – 3 weeks
SpacePro 35mm door frame
Steel frame door construction
Laminated or painted steel top & bottom tracks
Tracks included FREE when using this design tool
Track, wheel & soft close upgrade available
Opening Height 2260mm*
*2275mm if upgraded to soft close
Widths of 610, 762 & 914mm (24, 30 & 36 inch)
'Stanley Design' Top Slides
'Stanley Design' Anti-jump wheels
All glass/mirror safety laminated to BS EN 12600
FSC certified MFC wood
Manufactured in UK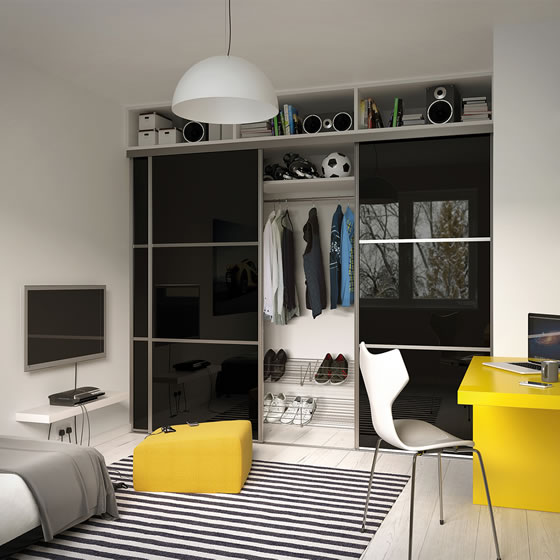 To build your wardrobe, just click or touch a door above to select it, then click or touch on the wall to the right to add it.
On the wall to the right, click or touch any door above to select it (other doors will fade). Buttons then appear allowing you to remove the door or move it left or right.
Note: Total width refers to the maximum total width covered by the doors after installation. The total width will varying depending on the exact overlap you choose when installing the doors.



Touch a door above to move or remove it.
Total Width = 0 mm Total Price = £0.00