SpacePro™ Heritage Standard Size Sliding Wardrobe Door Design Tool – 15% off RRP plus FREE Track-sets
Read about the range…
SpacePro™ Heritage sliding wardrobe doors & SpacePro™ Heritage LOFT, are all simple single panel doors, available as a full height door (2260mm), and also a half height door for opening heights of  1150mm.
Manufactured in Sheffield to the original patented STANLEY design.  Steel tracks and 25cm SpacePro Heritage frames (formerly the Stanley 6000 series) on each door, and anti-jump bottom wheels to the original STANLEY patent.
Available in various wood effects, silver and white. Normal lead time 2-3 weeks through Mainland UK.
Loft sized doors are ideal for low spaces & lofts using our 'Angled Ceiling Bracket'.
25mm door frame (1 inch)
Opening Height 2260mm (standard UK Height)*
or 1150mm Opening Height for low openings
Steel frame and tracks
Tracks included FREE of CHARGE when using design tool
Can be upgraded for soft close
*2275mm height if upgraded to soft close
Widths of 610, 762 & 914mm (24, 30 & 36 inch)
'Stanley / SpacePro' Top Slides
'Stanley / SpacePro' Anti-jump wheels
All glass/mirror safety laminated to BS EN 12600
Manufactured in UK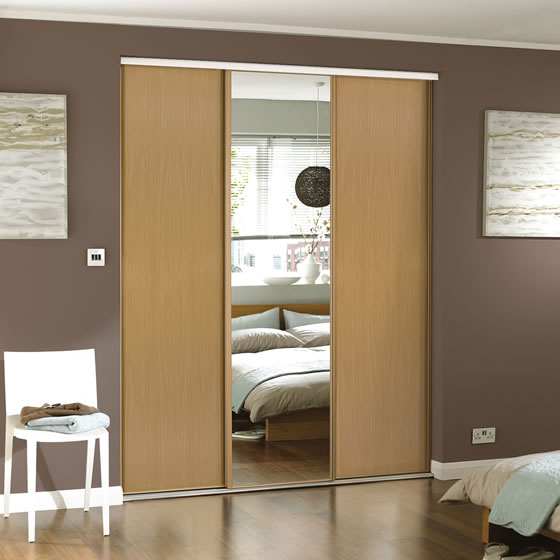 To build your wardrobe, just click or touch a door above to select it, then click or touch on the wall to the right to add it.
On the wall to the right, click or touch any door above to select it (other doors will fade). Buttons then appear allowing you to remove the door or move it left or right.
Note: Total width refers to the maximum total width covered by the doors after installation. The total width will varying depending on the exact overlap you choose when installing the doors.



Touch a door above to move or remove it.
Total Width = 0 mm Total Price = £0.00