Sliding Wardrobe Interior Design Tool – Aura
Read about the range…
Aura is a stanchion (or post) system.  Instead of full wood side panels (like Traditional or SpacePro) it has a steel telescopic post that spans from floor to ceiling.
Punched into the sides of the posts are holes that accept clips to hold the other components.
Designed in 2005 (by our designers) to be a cheaper version of Alume/Relax for the DIY market, it is now produced under the  SpacePro™ brand name.
Telescopic post fits ceiling heights from 2110 to 2700
Available in white and oak MFC
Component widths of 550, 900, 1150 & 1300mm
Very easy to install and adjust as your storage needs change
Create your design using the design tool, and if required add additional items from the related items scroll.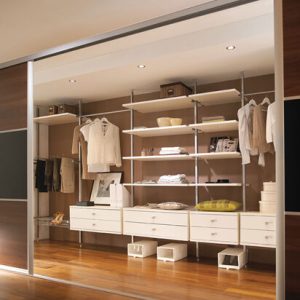 To build your wardrobe:
Click or Touch a component above to select it
Click or Touch in the room on the right to place it
To move or delete components:
Click or Touch a component in the room to select it
Use the move Left/Right/Delete buttons
Max/Min width: This takes into account the components that can be cut down by you on site.



Touch a door above to move or remove it.
Total Width = 0 mm Total Price = £0.00
Some items can be cut to size for a minimum total width of mm