Sliding Wardrobe Interior Design Tool – Alume (Relax)
Read about the range…
Alume (also known as Relax) was designed & patented (by our designers) in 2001 as a cost effective version of some expensive Italian systems that have been produced since the 70s.  It has been sold throughout Europe since then.  Like Aura, its is a stanchion (post) system, but the posts are produced from extruded aluminum.
There are no holes in the sides, producing a cleaner look, well suited to walk in wardrobes.  Accessories clamp to the sides of the stanchion via patented system.  Alume/Relax is now produced under the SpacePro™ brand name.
Available in Linen Effect MFC and Walnut Effect
All metal components in aluminium/silver
Easy to install and adjust to suit your changing storage needs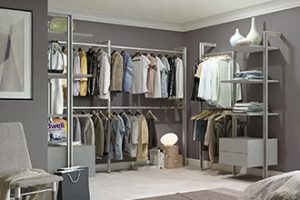 To build your wardrobe:
Click or Touch a component above to select it
Click or Touch in the room on the right to place it
To move or delete components:
Click or Touch a component in the room to select it
Use the move Left/Right/Delete buttons
Max/Min width: This takes into account the components that can be cut down by you on site.



Touch a door above to move or remove it.
Total Width = 0 mm Total Price = £0.00
Some items can be cut to size for a minimum total width of mm